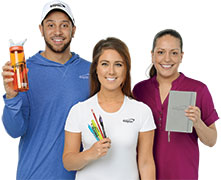 4imprint Customer
Service Reps
Ray, Megan &
Stacey
Contact 4imprint
Have questions about a product, your order or the website? We make it easy for you to get in touch with us.
Start of Phone Section
Phone & Chat Hours
Call or chat with one of our friendly customer service representatives.
All hours are in Central Standard Time
888-298-8190 (Toll Free)
Fax: 800-355-5043
Click To Chat
COVID-19 UPDATE: Due to the COVID-19 outbreak, our customer service hours have been adjusted: Monday – Friday 7am to 8pm and 8am to 1pm Saturday.
Normal Hours
Monday - Friday


7:00am - 10:00pm

Saturday


8:00am - 3:00pm
Holiday Hours
8:00am - 5:00pm
Monday, May 25


Memorial Day

Thursday, November 26


Thanksgiving

Thursday, December 31


New Year's Eve
Monday, September 7


Labor Day

Friday, November 27


Black Friday
Closed
Wednesday, January 1


New Year's Day

Thursday, December 24


Christmas Eve

Friday, December 25


Christmas Day
Start of Email Section
Email
In Person
101 Commerce Street
Oshkosh, WI 54901